Home
»
Events
»
Old Scatness Tour Guide Training
Old Scatness Tour Guide Training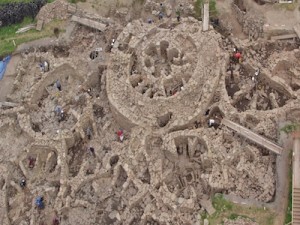 Old Scatness Broch & Iron Age Village – Site specific training for Tour Guides, 2 sessions
Shetland Amenity Trust is offering tour guides in Shetland the opportunity to undertake site specific training for Old Scatness Broch and Iron Age Village.
Evening presentation, Lerwick: Tuesday 16th April 18.30-20.30 -
Presentation on Old Scatness and discussion led by Shetland Archaeologist Val Turner. Venue: Shetland Museum & Archives
Daytime Site Visit at Old Scatness: Friday 19th April, 14:00-16:00 OR Saturday 20th April, 10:00-12:00 -
Tour of Old Scatness archaeological site, visitor centre and reconstructions led by Shetland Amenity Trust Assistant Archaeologist Chris Dyer. Venue: Old Scatness, Virkie
Click here for further information and to book.